Ross FiberOptic LLC offers quality solutions for almost all products required in fiber installation and troubleshooting. Please call 800-353-0886 or email us your list.
A valuable cleaning tip, literally, from Ross FiberOptic
The most frequent problem found when trouble shooting fiber optic networks is dirty ferrule tips. The US Conec company solves this problem with a remarkable cleaner that cleans both the patch cord ferrule tip and the adapter tip as shown in this movie: (SCIBC-REV2 Movie)
Ferrule Tip Cleaners
Ross FiberOptic Solutions offers both original and compact ferrule tip cleaners.

Two styles are available:
The original style:
IBC-SC (2.5mm) and IBC-LC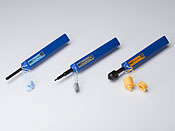 The new compact cleaner to fit in small places:
Zi25 (2.5mm) and Zi125 (1.25mm)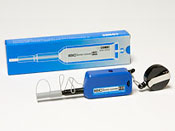 Ross FiberOptic can also supply:
Adapters
Attenuators
Cletop cleaners
Couplers,
Connectors
Optitap reference jumpers for FTTH
Patch panels AFL, Corning, Multilink loaded and unloaded
Patch cables Stock and Custom
Pigtails
Splice Closures (OSP) from PLP, Multilink, AFL, 3M, Tyco
Splice Sleeves, Electrodes, Cleaver Wheels
99% Alcohol
Fiber optic and cable tools
Ross FiberOptic offers Military Fiber Optic Cleaners from US CONEC
13309 IBC™ Brand Cleaner M16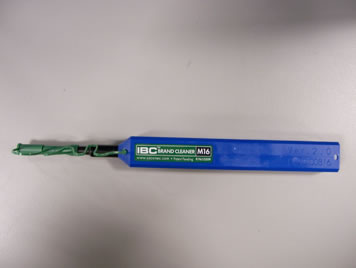 525+ cleaning per unit
Cleans harsh environment 1.6mm based connector systems M38999
Cleans plug and socket termini
RoHS compliant


 14829 IBC™ Brand Cleaner GA16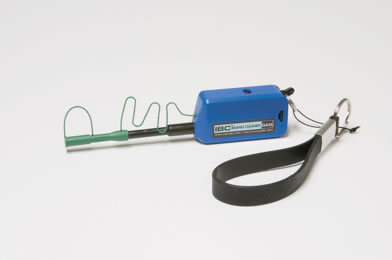 525+ cleaning per unit
Reduced housing-109mm (4.3")
Cleans harsh environment 1.6mm based connector systems-M38999
Cleans plug and socket termini
Cleans through Glenair M38999 test adapters
Includes Wrist Lanyard
RoHS complaint


12926 IBC™ Brand Cleaner M20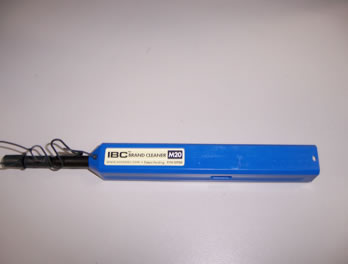 525+ cleaning per unit
Cleans harsh environment 2.0mm based connector systems –
SMPTE 304M, SMTPE 358M and MIL PRF 28876
Cleans plug and socket termini
RoHS compliant


12910 IBC™ Brand Cleaner H125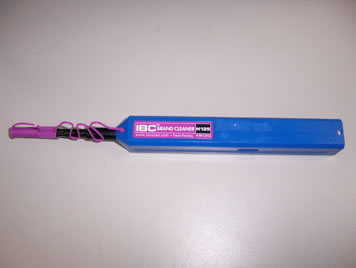 525+ cleaning per unit
Cleans LC and MU connectors with PC and APC polishes
Cleans connectors loaded in a bulkhead adapter and on unmated cable
Cleans harsh environment 1.25mm based connector systems – ARINC 800, ODC series, MXL38999, LuxCis series, MIL PRF 64266 (NGCON), Neutrik opticalCON
Features a flexible cleaning tip that up to 30˚ bend without damage
Cleans plug and socket termini
RoHS compliant


14649 IBC™ Brand Cleaner ZiA125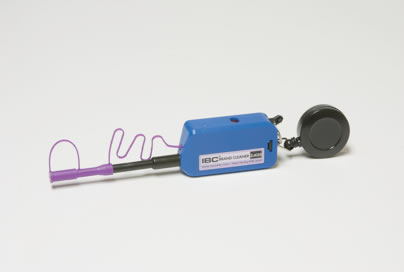 525+ cleaning per unit
Cleans MIL/AERO 1.25mm connectors
One step cleaning action is quick, repeatable, and highly effective
Retractable lanyard and compact in size
RoHS complaint