Anritsu's comprehensive OTDR range ensures fast and highly accurate measurements of optical fiber cables with a unique range of handheld, benchtop, and OEM module solutions.
Two exciting new OTDR products the MT9085 and the MT1000A.
The MT9085 series is a compact handheld all-in-one tester for performing optical pulse tests, optical loss/power measurements, and optical fiber end-face inspections. It has a wide variety of applications, ranging from installation and maintenance (I&M) of trunk fibers (Core, Metro, Mobile Fronthaul, Mobile Backhaul) to troubleshooting Access networks, such as breaks in drop cables.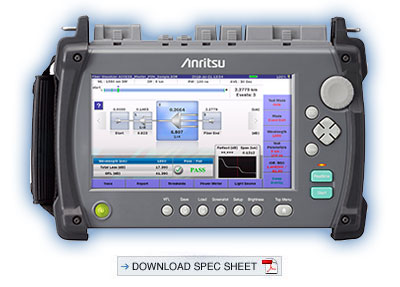 The MT9085 Access Master is a slick packaged 4.8lb OTDR All-in-One solution for Optical Fiber Construction and Maintenance of Access, FTTx, LAN, and Metro Networks.
8-Inch-wide TFT 16:9 touch screen
Easy Analysis Fiber Visualizer
Longer up to 12 hr battery Life
Wi-Fi/Bluetooth Connectivity
Wider Operating Range -10 to 50°C
Fiber Visualizer Software to simplify Pass/Fail reports directly from OTDR
Popular Quad Kit – MT9085-063QM-BSC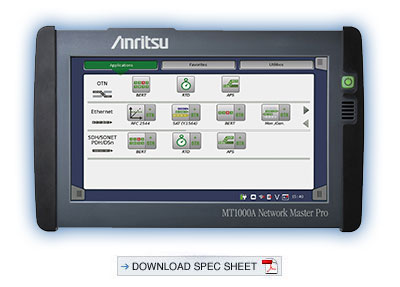 All-in-one portable tester with excellent expandability and operability for 10/100G, OTDR and CPRI tests. The design supports 5G base-station interface eCPRI/RoE throughput and delay measurements as well as high-accuracy time synchronization tests.
Various modules include: OTDR Module, Transport 10G module, Transport 100G module, and CPRI RF module.
Smart All-In-One optical and data measurements up to 100G
Customized easily for every measurement
Intuitive operation using touch screen
Compact and light weight 3.5Kg/7.8lbs with battery
Up to 3hrs continuous on-site operation
Basic unit – MT1000A, QUAD OTDR Module MT1000ASMMM
Please contact Ross FiberOptic for sales.